As a business owner, you understand the importance of hiring the right people for the job. Your office cleaning service should be no exception! When you're searching for a qualified commercial office cleaning company, look no further than Bethany's Cleaning Service. I work with local businesses throughout the Saratoga Springs area and across Upstate New York, providing office building cleaning services from dusting and vacuuming to mopping and bathroom cleaning. Keep your business looking its best with my in-depth cleaning!
I have more than 15 years of experience providing office building cleaning services, and my obsessive approach to cleaning means you get a truly thorough clean. Call me today to discuss your needs for commercial cleaning service.
Personalized, Professional Office Cleaning Service
When it comes to office cleaning services, it's important to remember that bigger is not always better. At Bethany's Cleaning Service, the company's small size means you get personalized attention to your professional office cleaning service's specific requirements. I am committed to getting your office's cleaning services done completely and correctly, and I go the extra mile to clean your office your way.
My commercial office cleaning options can include:
Thorough dusting
Vacuuming carpets
Cleaning kitchens
Tidying break rooms
Mopping floors
Washing dishes
Sanitizing bathrooms
Cleaning stairways
Organizing
And more!
While most small and medium businesses seldom require daily cleaning, weekly or bi-monthly office cleaning services can make a huge difference in how your commercial space looks and performs. These options work well for many of my commercial customers, enabling them to enlist my office building cleaning services on a long-term basis for the precise housekeeping help they need. Additionally, I provide office cleaning service on a flexible basis, scheduled at the time that is most convenient for you. Evenings and Saturdays are no problem for me, if that's what's best for you and your operation.
Reliable Commercial Cleaning Service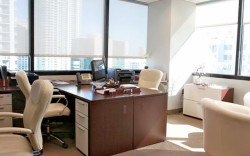 Contact Bethany's Cleaning Service for commercial office cleaning in Saratoga Springs or the surrounding area. I want you to be completely comfortable with the terms and costs of your office cleaning services. An upfront, transparent discussion is the best way to make certain your needs are met. Customer satisfaction is a top priority for my locally owned office cleaning service, and my goal is always to go above and beyond for you.
Green Cleaning Service
Are you interested in green cleaning services for your business? Just let me know! At your request, Bethany's Cleaning Service can use only eco-friendly products for your office building cleaning. I even have aromatherapy options available to leave your office with a fresh and energizing scent. Call me today with your special requests, including aromatherapy and green cleaning services!